The rally took us through the scenic roads of Vermont and New Hampshire. Based around Fairlee, Vermont we embarked on a four day adventure with scenic mountain roads at the beginning of the foliage season in New England. 
On Wednesday afternoon, everything started with a small convoy of three cars, a black and red Type 49, a black and yellow Type 57, lovingly called Irene, and a yellow and black Type 44, which arrived in the US only a month earlier. 
We took the scenic route to the Lake Morey Resort, our headquarter for the coming days. A few cars were already in the parking lot as the sun set over the flowing hills of Fairlee and it's golf course. We sat down had dinner, connected with new to us people and were welcomed by the American Bugatti Club members with open arms. It almost felt like reconnecting with relatives after a long time. A home abroad.  
Thursday morning the "paddock" got busy earlier than the following days. Everybody was eager to get going and start driving and enjoying their cars. Some small check-ups were performed before we set off for the day. Our route would take us into New Hampshire, through Franconia Notch to near Mount Washington.  
After a short drive we made a stop at Clark's Trading Post to check on the cars and get coffee and cookies for ourselves. Although the radiated heat from the engine and gearbox keeps your feet warm in an open Bugatti the upper body gets cold quiet quickly. A warm drink warmed us up and we set off again as the sun was finally poking through the layer of fog and clouds that formed in the morning.
As the sky opened up, we often had a magnificent view of the mountain range we were driving through. We hoped for lots of twisting roads and weren't disappointed. As we got closer to our next stop the roads got quieter and even more enjoyable.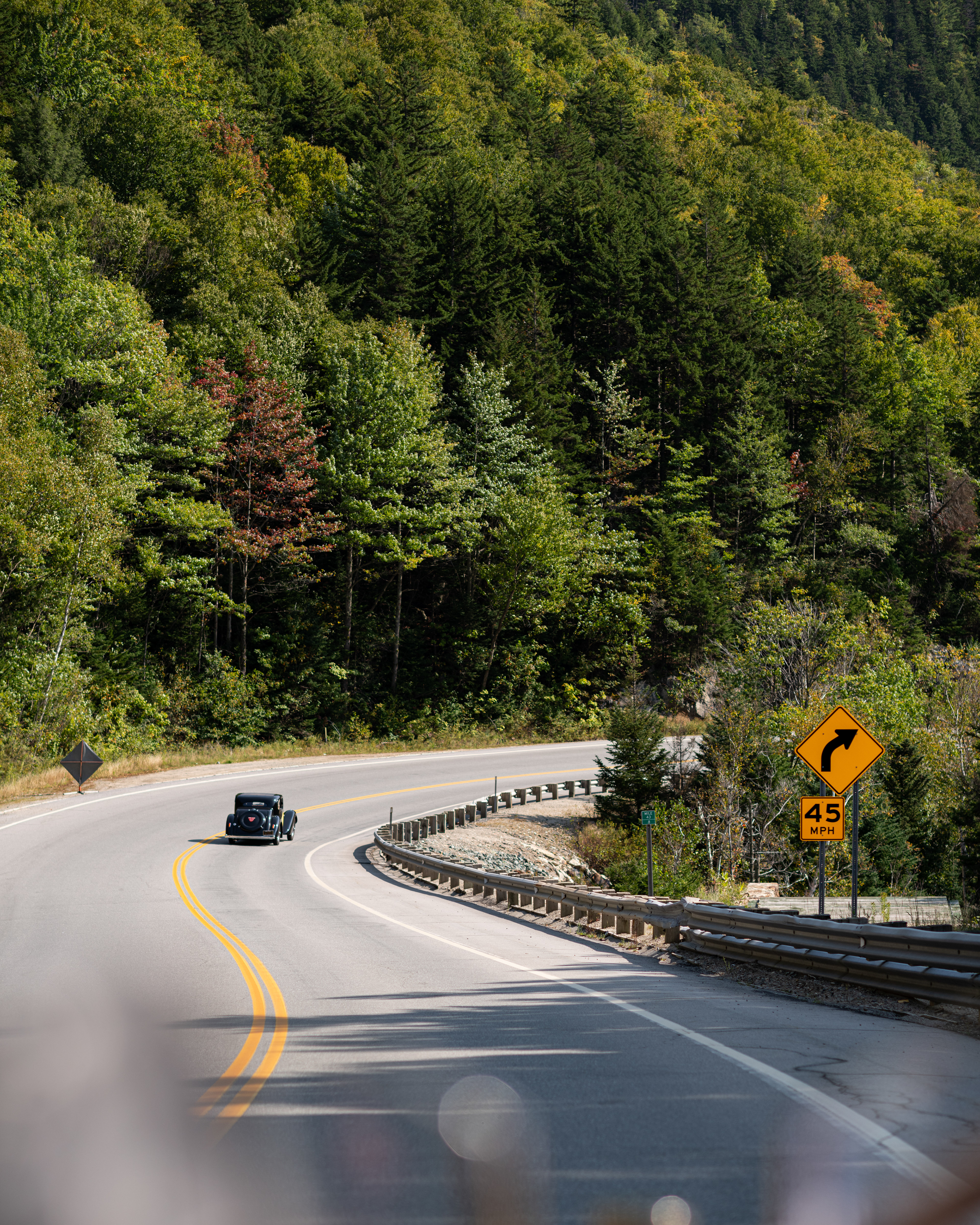 On our way back to Vermont, we had to make a short stop to fill up on fuel and check the tire pressure. We were eager to get going again but we had to make a quick stop at a parking lot right next to us.
As Waldo, the Pudel, waited in the broken down Type 40 in a Dunkin's parking lot, John already diagnosed the issue and Matt quickly pulled a replacement coil out of the trunk of his Type 57. Xander and John put in the new coil and confirmed everything was good to go. We were on the road again! 
Later on we had to make a quick baby related emergency stop. We took the chance to catch a view of the beautiful landscape and let the car cool down. Irene, the Type 57, was running a bit hot after carving her way up and down the mountain roads of New England. Xander topped of the radiator and we were off to our next stop.
We arrived at Scott's shop, Sargent Metal Works, a bit later than expected but still managed to take a look around and enjoy the atmosphere. It felt like heaven for everybody that has even a slight interest in pre-war Bugattis. You could feel the pure knowledge that would fill these halls on a normal working day. This time around though, Scott setup drinks and snacks for the participants and let work be work. After everyone left, he and his team started work on the Type 35C of Douglas and Karen. They were eager to continue the rally the next day... 
Friday morning was foggier, cloudier and colder as Thursday. After the rush to get the cars going yesterday, today was a bit slower. Everybody got their cars going and we were off at around 9 am. 
Friday's route would lead us up north through Peacham, apparently one of the prettiest villages in Vermont, to Red Barn Brewing in Danville and the Northeastern Speedway in Waterford.
After a short lunch break, we had really tasty grilled cheese sandwiches, John, Xander, Smilla and I got a jump on the rest of the field to set up for a photo op at the speedway.
We made it just in time to grab a photo of the first cars arriving. Apparently the grand prix cars almost caught us on the way to the track, but who can blame them. Afterall, a race car isn't made to be driven slowly, even an nearly 100 year old one. 
After a few laps around the track and a bit of catching up with other participants we made our way back to the Lake Morey Resort.  
Saturday morning felt like the mornings prior. Everybody was getting ready to leave our home base and set off on an adventure filled day. We would head south to historic Woodstock and split up into three different groups. We would join group A to visit a local glassworks and have lunch there as well.
Apparently, the saying
"An apple a day keeps the doctor away"
 is applicable to vintage Bugattis as well... 
It again was a foggy and cloudy morning. I hopped in the Type 49 with Henry and we were off, enjoying the cold weather with nice flowing roads. 
The Type 49 made for an excellent camera car. I sat backwards on the seat with my thighs pressed up against the backrest. Douglas and Karen in their Type 35 C and Matthew in his Type 44 were catching up to us pretty quickly.  
We stopped for fuel and much needed coffee shortly after. The sun was slowly poking through the layer of clouds and we were certain it would be another awesome day of rallying in front of us.   
After a short drive to Woodstock and a quick stop at the town center we split up into three groups and headed to Simon Pearce Glass Works, our lunch spot for the day.
In the afternoon we stopped by Peter Williamson's old house, the late President of the American Bugatti Club. Scott Sargent envisioned this rally to reflect back on the numerous rallys Peter held on the very roads we explored over the last few days. 
On Sunday morning it was time to say our goodbyes. We had a wonderful time during the rally and will think back on the memories and friendships we made. 
Thank you Xander, Matt, Amadea, John, Cornelia, Henry, Bridget and all that I haven't mentioned by name.
You truly made us feel like family and we had an awesome time in Vermont.
We can't wait to see you again!